Overview
A bunion is a bony growth in the lower joint of your big toe. It usually forms where the big toe pushes over against the second toe, forcing the joint to stick out. As a weight-bearing joint, this can be extremely painful. Calluses and blisters can form on the edge of the bunion, doubling the pain. This crippling foot affliction usually gets worse with time. Surgery for bunions can be complicated, expensive, painful and does not guarantee a well-formed foot as the outcome.
Causes
Bunions develop when excess pressure is placed on the tendons and joints of the foot. As a result, the joints can become deformed and unstable. After years of pressure, the MTP joint suffers, leading to abnormal movement and bunions. Bunions are symptomatic of poor foot development (which can be genetic), walking habits, shoes, foot type and other reasons. Women often develop bunions as a result of tight shoes that squeeze the toes together. Bunions can also result from foot injuries, congenital deformities and neuromuscular disorders. Flat foot and low arch problems are often precursors to bunions, as are problems with serious arthritis or inflammatory joint disease. An overlap of the first and second toes often causes irritation and corns and can eventually lead to bunions. Poor motion of the big toe can also be a factor.
Symptoms
Movement of the big toe towards the smaller toes. Bulging bump on the outside of the base of the big toe. Restricted movement of the big toe. Swelling, inflammation, redness or soreness around your big toe joint. Persistent or sporadic dull, sharp or aching pain in or around the big toe. Corns, blisters and calluses which can develop when the first and second toes overlap. Over time, more severe symptoms can occur such as arthritis of the big toe, stress fractures and problems walking.
Diagnosis
Before examining your foot, the doctor will ask you about the types of shoes you wear and how often you wear them. He or she also will ask if anyone else in your family has had bunions or if you have had any previous injury to the foot. In most cases, your doctor can diagnose a bunion just by examining your foot. During this exam, you will be asked to move your big toe up and down to see if you can move it as much as you should be able to. The doctor also will look for signs of redness and swelling and ask if the area is painful. Your doctor may want to order X-rays of the foot to check for other causes of pain, to determine whether there is significant arthritis and to see if the bones are aligned properly.
Non Surgical Treatment
The first step in the treatment of Bunions, Corns, and Calluses is determining what is causing the problem. Check with your family doctor or Podiatrist (foot doctor) to find the best solution for your ailment. You can reduce the risk of Bunions, Corns, and Calluses by following these simple instructions. Wear properly-fitting footwear, socks, and stockings (not too tight or too loose). Wear footwear with a wide toe box (toe area). Wear footwear or arch supports which provide proper support, weight distribution, and shock absorption. Maintain a healthy weight. For early-stage Bunions, soaking your feet in warm water can provide temporary relief.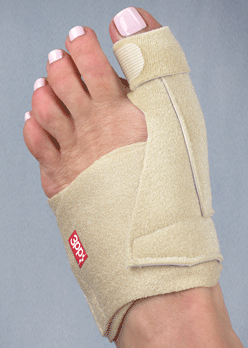 Surgical Treatment
Bunion surgery is most often a day case or one night in hospital. Surgery can be done under ankle block (patient awake) or general anaesthetic. It is best to rest with the foot elevated for the first 2 weeks after surgery. The foot is bandaged and a special sandal supplied by the hospital is worn for 6 weeks. Sensible shoes are to be worn for a further 6 weeks after the bandages are removed. It will take between 3-6 months for the swelling to go down. It will take 12 months before everything completely settles. It is also important to remember that not all bunion operations are entirely successful.
copyright © 2023 Myrtis Keiffer all rights reserved.
Powered by
FC2 Blog
.